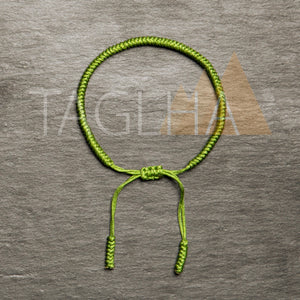 Honorable - This Bracelet is an allrounder.  It boosts your mental Powers in General. Its also a Booster for your other Taghla Bracelets you already own. Just add it - you will feel it. This is also a good Starter-Bracelet for Taglha-Beginners.
Handmade while Meditation
Blessed And Braid By Tibetan Buddhist Monks
Surround Yourself With Positive Energy ❤️
Easy Pull Away Knots. Adjustable To Fit All Typical Wrist Sizes
Tibetan Buddhism Item - For You To Have
Fashionable And Can Get Combined To Every Style
Taglha Bracelets are the perfect Good Luck & Blessing Present for your Family and Friends. So consider getting more than One!
 We Donate 2$ For Each Bracelet sold
Kabbalah Spirit Tibetan Bracelet